Peavey Wolfgang Standard
Peavey Wolfgang Special
Fender American Stratocaster
Ibanez JEM 777
Kramer Nightswan
Ernie Ball Hybrid Slinky Strings
Takamine EF 261 acoustic guitar
Faith FECV12 Eclipse Venus 12-string
Scheckter Nikki Sixx Bass
V-Pick Screamer

EVH 5150 III 100W Head
KEMPER profiling amp
H&K Switchblade Combo 50W
Peavey IPR-1600
Two notes Torpedo reload
Palmer PDI-03
TAD Silencer
Peavey 4x12
Laney 2x12

Eventide Eclipse
TC Electronic G-system
TC Electronic G-major
TC Electronic G-major 2
TC Electronic Polytune
Eventide Modfactor
Drawmer Dual Gate DS 201
Drawmer Compressor DL 241
Rocktron Patchmate
Rocktron All Access
Voodoo Lab Control Switcher
Furman PL8 Plus
Korg DT-2
TC-Helicon VoiceLive 2
Furman HA-6A
Shure Wireless Guitar System

Doepfer LMK3+ Master Keyboard
M-Audio Axiom 49 Master Keyboard
ADAM P22 Monitors
Yamaha SW10 Subwoofer
Avantone MixCube
Motu 828 MKII
Shure WCM16 Headset Micro
AKG C214 Microphone

Marshall JMP-1
ADA MP-1
H&K Zenamp Combo
H&K Zentera Head
ENGL E840/50
Carvin FET 450
Rocktron Velocity 300
H&K Red Box
TC Electronic 2290
Lexicon PCM 81
Rocktron Intellifex
Rocktron Hush 2000
Rocktron G612 Line Mixer
Rocktron 300A Compressor
Boss GT-3
Exef Midi Mapper
Korg DS-8
THD Hot Plate
Korg DRV-2000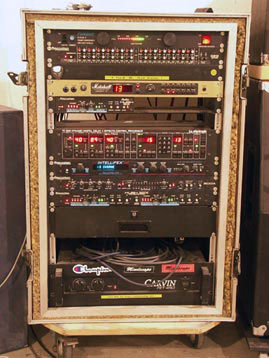 ∴ This is the rack I used 1991-1999 during the time with Mindscape, Paradogs and also first years with N.I.C.
∴ The MIDI equipped Marshall JMP-1 (used e.g. by Iron Maiden) is a tube pre-amp without very high gain channel but still very versatile, heavy, reliable - delivering a fat and juicy sound. The analog Roctron HUSH noisegate plugged into FX way kept the distorted channels quiet.
∴ Then the signal was splitted into Rocktron Intellifex (used mainly for reverb) and the famous TC 2290 (for chorus & delays). They ran in parallel into Rocktron line mixer with additional stereo Rocktron HUSH to filter the noise leftovers coming out of FX gear. I put also an analog Rocktron compressor into FX way of TC 2290 for clean sounds - always a good idea.
∴ This setup was powered by Carvin FET-450 stereo power amp.
Sound secrets revealed

Currently I use 2 different setups: a small and a big one, depending on a gig size. The small one consists of H&K Switchblade Combo & TC G-system. The big one is powered by the mighty EVH 5150 III head and a rack. The most important thing: the sound must come out of an amp, no stomp boxes or overdrive prior to an amp! Hence in both setups a Palmer loadbox is plugged into the amp output, extracting the "juice" and putting it through FX chain with another power amp at the end. That's the way how to saturate your amp by putting it's volume to the limit, without blowing away your audience or your band on stage. Also your stage tech will praise you.